The Tree in front of My Mother's Grave

The Tree Larualee
I was a teenager when mother was buried. It was a rainy day, just like in the movie. I scattered a handful of soil and father transplanted a sapling from nearby woods.
Within two years father passed away as well. Struggling to survive and live, building my career and family, for all these years, for all these years I thought I was doing it solo.
Until 20 years later, until this autumn afternoon, I came back to mother' grave. Standing in front of me is a big tree now, thriving and swaying, sending its greetings to me. Until then and there, I suddenly realized you were always there, above the earth, growing and flourishing. You were always there, beneath the earth, guarding and blessing. Gone are the grievances. Gone are the complaints. I got it mother. This is your way to care. This is your way to parent.
I drove all the way here just to see the tree , and only to see the tree.
It is mother's (my) tree. It is the tree. Silent but proud.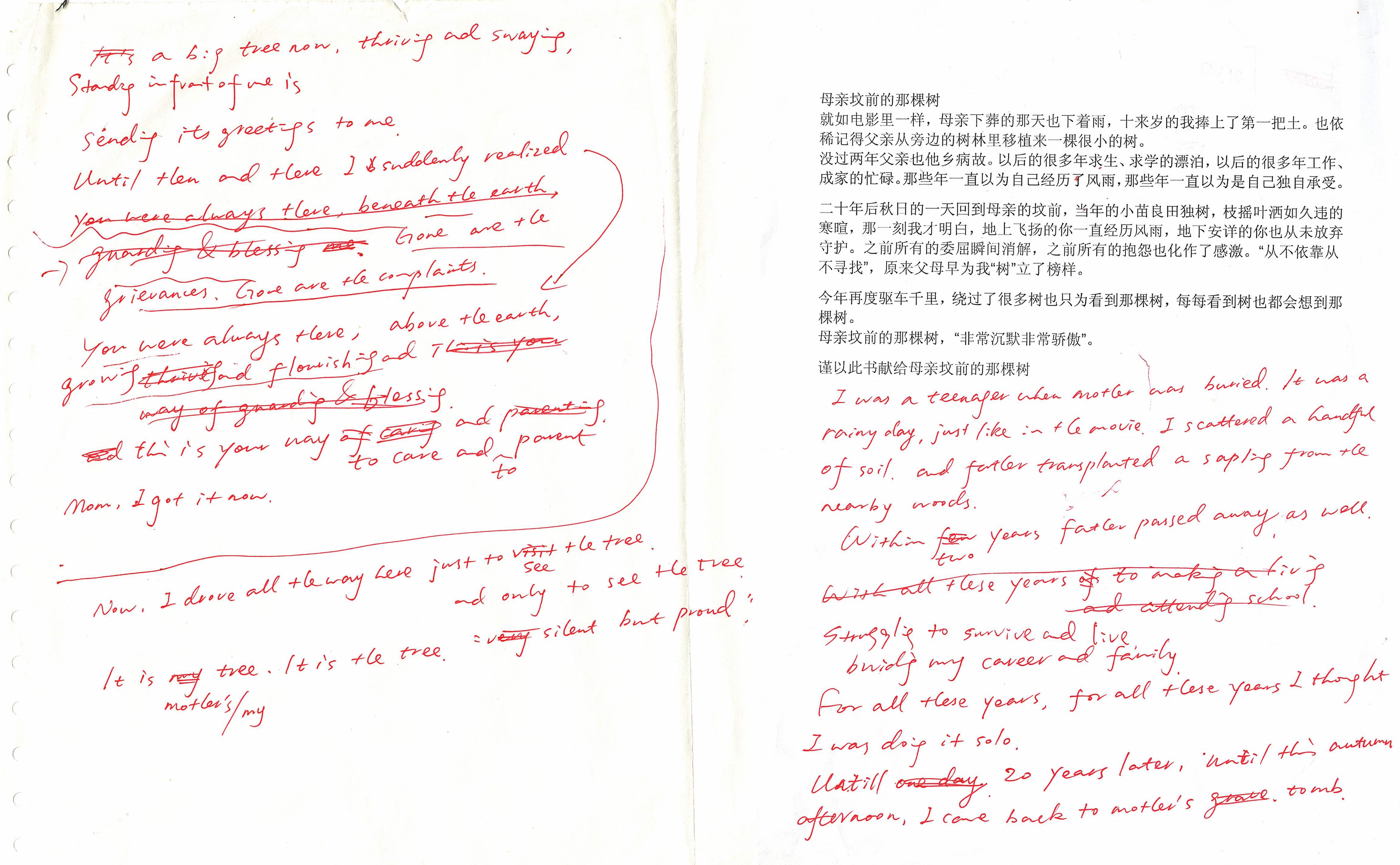 The Tree in front of My Mother's Grave Rebecca
Like a shot in a movie, it rained on the day of my mother's funeral. I, in my teens, was the first to palm the earth onto her grave and part of my memory still has it that to keep her company, my father had a small tree removed from the nearby woods. Nearly two years later, my father passed away in a distant place. In the next hustling years, I was busy making a living, studying, working and setting up a family of my own.
I used to believe stubbornly that I ,all on my own, had been enduring life's ups and downs, glories and miseries alike, until one day this autumn twenty years later when I returned to my mother's grave.
The field and the tree from the past remained alone as ever, shedding leaves and branches swaying like greetings from an old acquaintance. At the exact moment, I realized you, deeply rooted in the soil, have been facing up to nature's sufferings; you, resting in peace under the ground, have never ceased your blessings. At the very moment, all the icy injustice I thought imposed on me thawed; the bitter grievance turned into gratitude. It dawned upon me that the spirit embodied by the tree has long been set by my parents—Never rely on;Never look for.
This year, again, I drove thousands of miles back, with lines of trees in sight but merely for the sake of seeing that tree. And any tree I see each time always reminds me of that tree--the tree in front of my mother's grave, very silent, very proud.
This book is hereby dedicated to the tree in front of my mother's grave.
Oct, 6th, 2014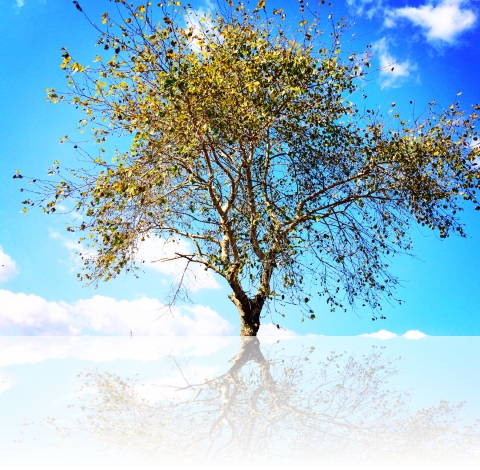 Translate by Lauralee(Haimei Li) Rebecca(Jingyi Zhao)
母亲坟前的那棵树[?]
On this day..
One Response to "The Tree ..."
qiusir Says:
5月 3rd, 2021 at 22:54

•罗宇先生中文配音 http://qiusir.com/audio/thetree-louyu.mp3
•杨杰女士中文配音 http://qiusir.com/audio/thetree-yangjie.mp3
•Lauralee的英文配音 http://qiusir.com/audio/TheTreeLauralee.mp3

时常安静地在书房里听听这录音,想起不多的人和不多的事,但都伴随着感念,除了双亲和相依为命的妹妹,越发感激那个顽强的自己。